If you're like most people, you probably don't have an unlimited budget for home expansion. Fortunately, plenty of ways to add space to your home without breaking the bank. In this blog post, we'll explore eight different methods for adding extra square footage to your home—so you can finally have that home office, guest bedroom, or playroom you've always wanted.
Convert Your Attic into Usable Living Space
One of the most common places to add space to a home is by converting an attic into a usable living area. This is an excellent option if you have an unfinished attic that's just gathering dust. Adding insulation to your attic can create more living space without costing you the price and effort of expanding your home. This method can be incredibly cost-effective if you do some of the work yourself.
Set up a Home office
A home office is a great way to add an extra room to your home without too much space. If you have a spare bedroom, den, or even a large closet, you can easily set up a home office that's both comfortable and functional. To make your home office feel more spacious, try using light-colored paint and furniture. You may also consider using a Murphy bed or fold-down desk to save space. The good news is that you don't have to spend much money to create a home office that works for you. For instance, you can look for second-hand office desks for sale near you and buy some used furniture to save money. Buying used items is also a great way to be more sustainable.
Build a Sunroom or Conservatory
Another way to add space to your home is by building a sunroom or conservatory. Sunrooms are usually built onto the side of a house, and feature walls made almost entirely of glass. Conservatories are similar, but they often have a more traditional design with brick or stone walls. Sunrooms and conservatories are great places to relax or entertain guests—and they can also add significant value to your home.
Finish Your Basement
If you have a basement currently being used as storage space, you might want to consider finishing it and turning it into a livable space. Basements can be tricky because they're often damp and dark. However, with proper waterproofing and strategic lighting, you can turn your basement into a cozy guest bedroom, home office, playroom, or family room. If you're unsure what to do with your basement, you can always hire a professional home designer to help you plan the space. Finishing your basement is a great way to add value to your home while gaining some extra square footage.
Add an Extension to Your Home
If you have the budget for it, one of the best ways to add space to your home is by building an extension onto it. Extensions can be anything from a small porch addition to a second-story addition. Of course, adding an extension to your home will require the help of a professional contractor—but it's generally worth the investment since extensions can increase both the value and square footage of your home.
Knock Down Some Walls
If you want to create more open living space in your home, one option is to knock down some non-load-bearing walls between rooms. For example, many homes have formal living rooms and dining rooms that are only used for special occasions. If you remove the wall between these two rooms, you can create one ample entertainment space. Just be sure not to check with a structural engineer before knocking down any walls in your home!
Create an outdoor living space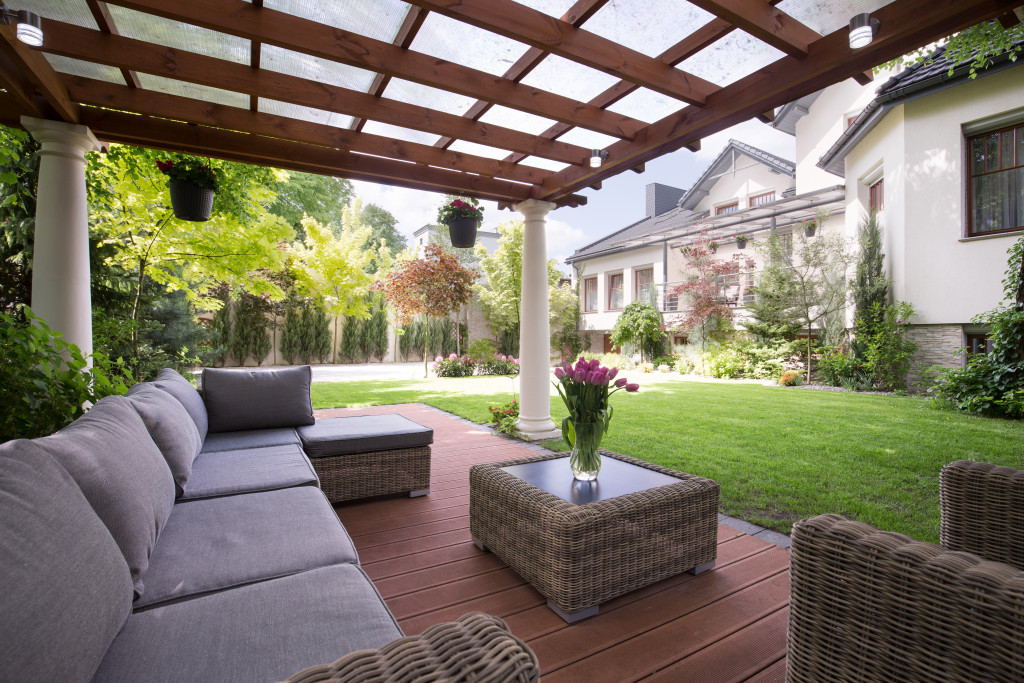 Another way to add space to your home is by creating an outdoor living space. This can be anything from a simple patio to a full-fledged outdoor kitchen. Outdoor living spaces are great for entertaining guests and can even increase the value of your home. If you have the budget for it, you may want to consider hiring a professional landscape designer to help you create the perfect outdoor living space for your home.
Make Better Use of Vertical Space
Finally, if you're really tight on space, one option is to make better use of vertical space in your home. This means taking advantage of things like high ceilings, shelves, and loft beds. There are all sorts of creative ways to make better use of vertical space —you just need to get creative! Try looking online for inspiration if you're stumped for ideas.
The bottom line
There are many ways to add space to your home without necessarily having to expand the footprint of your house. By utilizing some of these methods, you can make your home more comfortable and functional for your family while also increasing its value. So, whether you're looking to build a sunroom, finish your basement, or create more open living space, there are plenty of options to choose from.